Location, logistics advantages
Based on the decision of the Ministry of Economy and Transport, the Miskolc Industrial Park (MIP) was awarded the title of "Industrial Park" in December 2005, then covering an area of 68.5 ha. However, due to increased investor interest, it was necessary to involve additional areas. The new areas were established in several stages, so the total area of the Miskolc Industrial Park has now expanded to about 224 hectares.
There are more than 50 companies in the 130-hectare built-up area of the Miskolc Industrial Park, of which the biggest automotive supplier based on their size: the Bosch Group. The owner of the free area with all public utilities in the 42-hectare Mechatronics Industrial Park established within the Miskolc Industrial Park is the municipal asset manager. The geographical location of the Mechatronics Industrial Park, its local, micro-regional, national, and international transport connections are extremely favourable.
Settled enterprises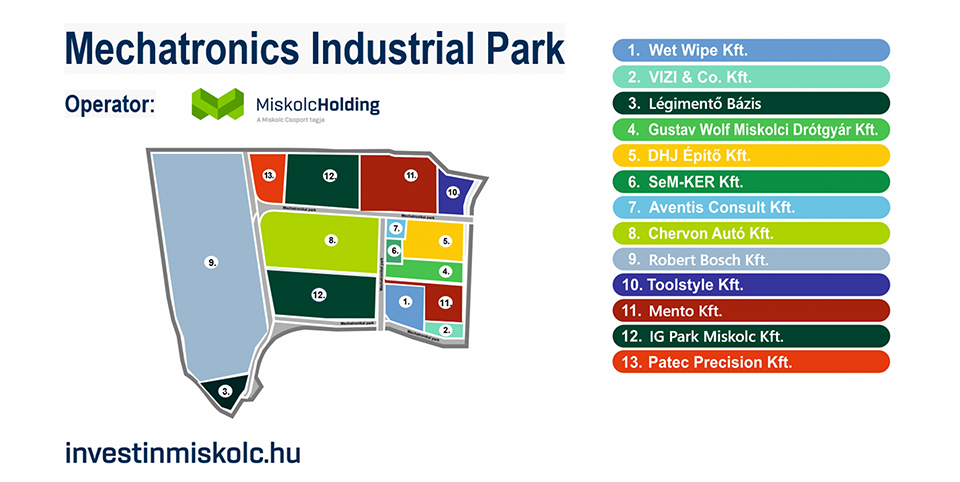 Aventis Consult Üzleti Tanácsadó Kft.
Address: 3530 Miskolc, Széchenyi u. 68. 1. em.
Site: 3526 Miskolc, Mechatronikai park 12.
Activity: Real estate management
Telephone: +36 46/382 246 | E-mail »| Website »

Chervon Autó Kft.
Address: 1027 Budapest, Varsányi Irén u. 21.
Site: 3526 Miskolc, Mechatronikai park
Activity: Wholesale trade of vehicle components

DHJ Építő Kft.
Address: 3526 Miskolc, Mechatronikai park 14.
Activity: Construction of residential and non-residential building
Telephone: +36 46/530 424 | E-mail » | Honlap »

Gustav Wolf Miskolci Drótgyár Kft.
Address: 3526 Miskolc, Mechatronikai park 8.
Activity: Manufacture of wire products
Telephone: +36 46/500 982 | E-mail »| Website »

IGPark Miskolc Ingatlanfejlesztő Kft.
Address: 1115 Budapest, Bartók Béla út 105-113.
Activity: Sale and purchase of owned property
Telephone: +36 1/481 4530 | E-mail » | Honlap »

Mento Környezetkultúra Kft.
Address: 3526 Miskolc, Besenyői u. 26
Site: 3526 Miskolc, Mechatronikai park 14.
Activity: Other construction n.e.c.
Telephone: +36 46/532 233 | E-mail »  | Website »

Pallér Ingatlanfejlesztő Kft.
Address: 1007 Budapest, Margitsziget, Danubius Grand Hotel Margitsziget sziget IV. em.
Site: 3526 Miskolc, Mechatronikai park, hrsz. 12995/7
Activity: Renting and operating of own or leased real estate
Telephone: +36 1/2201 778 | E-mail »  | Website »

Patec Precision Kft.
Telephely: 3526 Miskolc, Mechatronikai park 3/A.
Activity: Metal forming, powder metallurgy
Telephone: +36 46/526 400 | E-mail »  

SeM-KER Kereskedelmi Kft.
Cím: 3526 Miskolc, Mechatronikai park 10.
Activity: Mixed wholesale of food, beverages and tobacco
Telephone: +36 46/411 106 | E-mail » |  Website »

Toolstyle Kft.
Site: 3526 Miskolc, Mechatronikai park, land-reg. ref. no.: 12998/6
Activity: Metalworking
Telephone: +36 46/402 477 | E-mail » | Website »

VIZI & CO. Építőipari és Kereskedelmi Kft.
Address: 1139 Budapest, Röppentyű utca 73. C. ép. fsz 5-6-7.
Site: 3526 Miskolc, Mechatronikai park 16.
Activity: Wholesale of household goods
Telephone: +36 46/530 218 | E-mail » | Website »

WET WIPE Kereskedelmi és Szolgáltató Kft.
Address: 3526 Miskolc, Mechatronikai park 4.
Activity: Manufacture of sanitary napkins
Telephone: +36 46/503 530 | E-mail » |  Website »