Location, logistics advantages
The 260-hectare Miskolc South Technology Park, owned by Miskolc Holding Zrt., is an easily accessible industrial area, located on the southern border of Miskolc, next to the access road to the M30 motorway. The area is flat and contiguous and easily accessed, located between the Budapest-Miskolc main railway line and the main road no. 3, in the vicinity of the Auchan department store, the Avalon International Scool and other commercial facilities. The area is bordered on the east by the Budapest-Miskolc railway line, on the west by the Hejő stream and the commercial zone.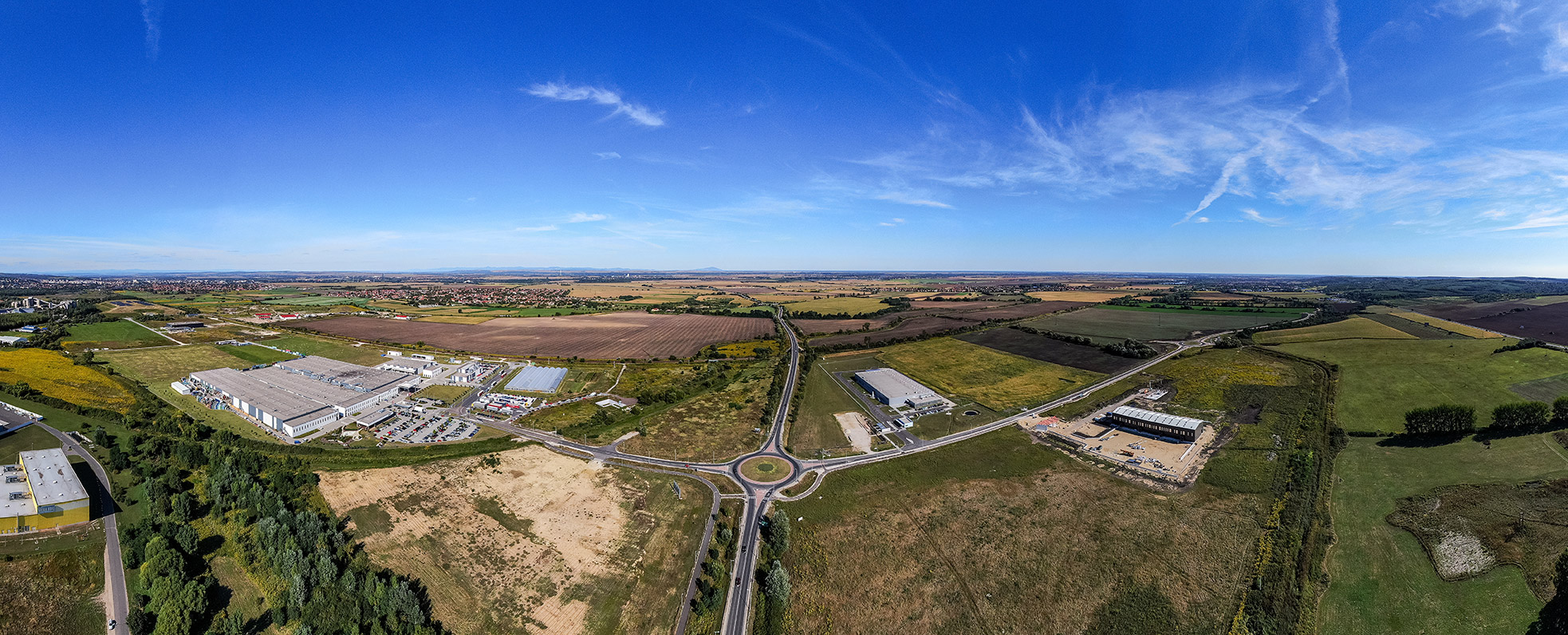 It is located at the intersection of the central transport corridors of Central Europe, a few hours' drive from the regional centres of the region (Budapest, Debrecen, Kosice, Bratislava, Uzhhorod) and from international airports. The park also has an outstanding public transport system thanks to city bus transport that is adaptable to the needs of investors. The area won the title of industrial park in 2009, in which several international and domestic companies have found a home today. In 2014, the Miskolc Southern Industrial Park was awarded the title of "Investor-Friendly Industrial Park of the Year" and in 2020 the title of "Technology Park".
The Miskolc Southern Industrial Park

The basic objective of the development of the Miskolc Southern Industrial Park is to create and develop an industrial park with basic infrastructure and good transport connections, as well as clear ownership conditions, which is essential for the installation of economic recovery investments. The developments are planned in line with the expected needs of investors, with which we will contribute to the establishment of new companies and enterprises, as well as to the expansion of local businesses. With a 120-hectare greenfield development project connected to the Miskolc Southern Industrial Park, an asphalt-paved road was built with a sidewalk, bicycle path, roundabout and public lighting. The drinking water supply and sewage disposal have been solved, as well as the construction of the rainwater channel, rainwater pump station and stormwater storage has been completed. The entire basic infrastructure is available in the new industrial area, and geothermal energy is also available to investors as an environmentally friendly and smart urban development policy of Miskolc.
    

Lot number
Availability
Area
Ownership
Bulding regulations based on local government decree number 38/2022. (XII.16.) of the Municipality of  Miskolc City with County Rights
0124/16
Available
850 000 m2
1/1 INPARK Miskolc Ltd. ownership
Gipe-71.63.8. 
- other industrial area  
- freestanding, site-like development mode
- allowed minimum land size: 10.000 m2 
- allowed maximum density: 50%  
- allowed maximum building height: 16 m
- green ratio: 25%                                  
0119/2
0119/3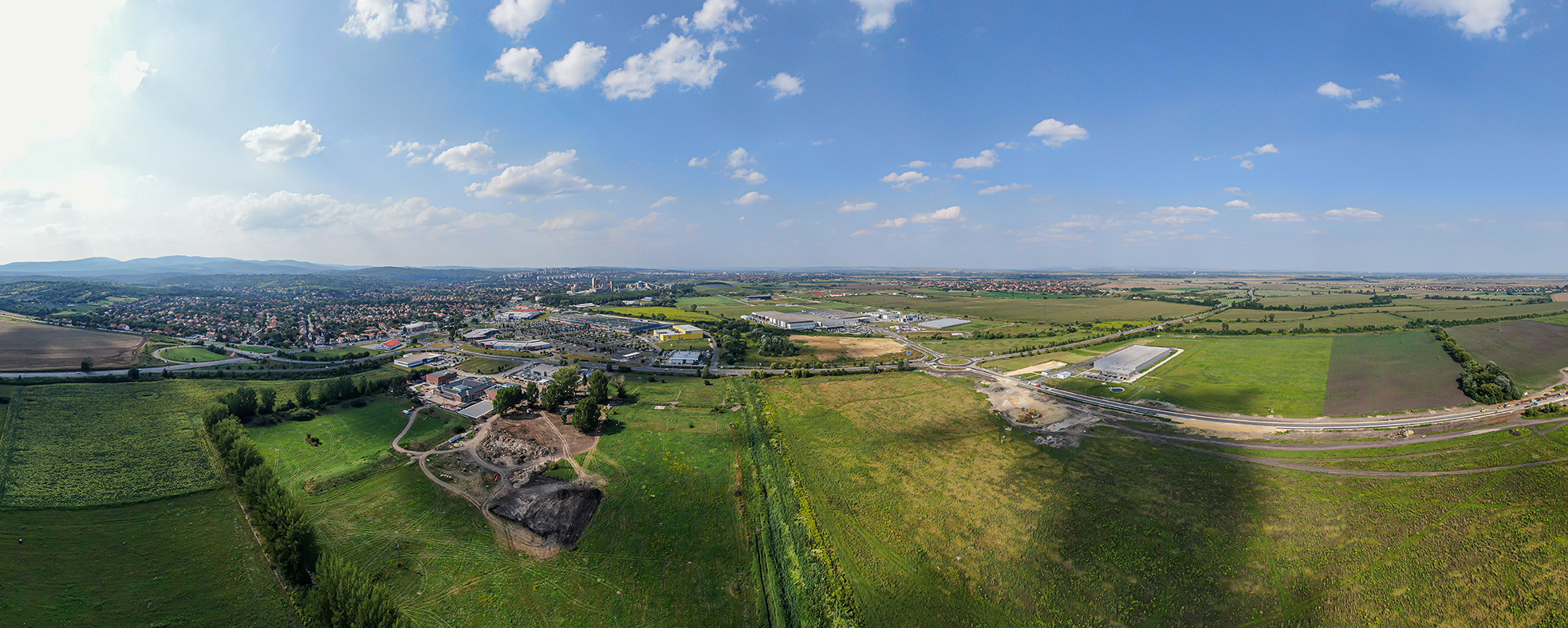 Infrastructure
All utilities are available for settling businesses. The network can be continuously expanded to meet the needs of new settlers.
Available utilities:
ELECTRICITY
Service provider
ELMŰ-ÉMÁSZ Hálózati Kft. |+36 46/535-535
Technical specifications
It is provided from 35 kV and 120 kV lines
Stability of the power supply to the line
There was no power outage
GAS
Service provider
TIGÁZ Zrt. |+36 80/180-380
Technical specifications
Gas pipeline is available
WATER
Service provider
MIVIZ KFT. | +36-46/519-300
Technical specifications
Drinking water supply is available
SEWAGE
Service provider
MIVIZ KFT. | +36-46/519-300
Technical specifications
Sewer is available
ROAD
Road and sidewalk exploring the area
1,764.5 m long, 2x1 lane road, with bike path and sidewalk
Load capacity
"A" (suitable for truck traffic)
Road pavement
1,621.62 m asphalt, 142.88 m crushed stone pavement
TELECOMMUNICATIONS
Technical specifications
Telecommunication cable is available
Telecommunication cable is available
Service provider
PannErgy Nyrt. | +36-1/323-2383
Technical specifications
Geothermal pipeline is available
Resident companies
Coctail & Dreams Kft., Creative Energy Kft., Ujhelyi Csongor 
Address: 3534 Miskolc, Csille u. 18.
Premise: 3516 Miskolc, Galamb József u., hrsz. 47511/34, 47511/35
Activity: Buying and selling of own real estate
Telephone: +36 46/413 297   
É-D Vascentrum Kft.
Address: 3556 Kisgyőr, Hársasbérc tető 2.
Premise: 3516 Miskolc, Galamb József u., hrsz. 47516/3, 47516/4
Activity: Buying and selling of own real estate
Telephone: +36 20/3337 819   
ÉMÁSZ Hálózati Kft.
Address: 3525 Miskolc, Dózsa György u. 13.
Premise: 3516 Miskolc, Galamb József u., hrsz. 47511/21
Activity: Distribution of electricity
Telephone: +36 46/535 535 | E-mail » | Website »
Épfer Kft.
Address: 3529 Miskolc, Görgey A. u. 30.
Premise: 3527 Miskolc, Besenyői út 8.
Activity: Other construction n.e.c.
Telephone: +36 46/563 368 |  E-mail » | Website »
GS Yuasa Hungary Kft.
Address: 3516 Miskolc, Gábor Dénes u. 1.
Activity: Distribution of electricity
Telephone: +36 70/3420 419 | E-mail » | Website »
Inpark Miskolc Ipari Park Kft.
Address: 1024 Budapest, Rómer Flóris u. 8.
Premise: 3516 Miskolc, Gábor Dénes u.
Activity: Renting and operating of own or leased real estate
Telephone: +36 70/4583 547 | E-mail » | Website »
Joyson Safety Systems Hungary Kft.
Address: 3516 Miskolc, Joyson út 1.
Activity: manufacture of passive security systems
Telephone: +36 46/407 903 | E-mail » | Website »
Juhász Gyula (sole proprietorship)
Address: 3508 Miskolc, Bogáncs u. 4.
Activity: Retail trade of fuels
Telephone: +36 30/9956 561

LANAXIS Ipari, Kereskedelmi és Szolgáltató Mérnök Iroda Kft.
Address: 3508 Miskolc, Bogáncs u. 10.
Activity: Manufacture of steel structures
Telephone: +36 46/562 425| E-mail » | Website »
MIA Rising Kft.
Address: 4025 Debrecen, Simonffy u. 4-6.
Activity: Renting and operating of own or leased real estate
Telephone: +36 52/534 951 |  E-mail » | Website »
Miskolc Autóház Kft.
Address: 3516 Miskolc, Déli városkapu
Activity: Sale and repair of motor vehicles
Telephone: +36 46/530 030 |  E-mail » | Website »
Metal Shredder Hungary Zrt.
Address: 9012 Győr, Hegymester u. 62.
Premise:  1238 Budapest, Nap u. 7.
Activity:  Treatment and disposal of non-hazardous waste
Telephone: +36 70/328 8585 |  E-mail » | Website »
MIHŐ Miskolci Hőszolgáltató Kft.
Address: 3534 Miskolc, Gagarin u. 52.
Premise: 3521 Miskolc, 0156/21 hrsz.
Activity: Steam and air conditioning supply
Telephone: +36 46/533 120 |  E-mail » | Website »

MiReHuKöz Nonprofit Kft.
Address: 3518 Miskolc, Erenyő u. 1.
Telephone: +36 46/200 179 | E-mail » | Website »
Gerixon Tervező és Kivitelező Kft.
Address: 3516 Miskolc, Galamb József u., hrsz. 47511/27
Activity: Steam and air conditioning supply
Telephone: +36 46/503 643 | E-mail » | Website »
Peka Bau Kft.
Address: 3516 Miskolc, Forrás u. 4.
Activity: Construction of residential and non-residential building
Telephone: +36 46/503 643 | E-mail » | Website »
SzH Msklc Kft.
Address: 1124 Budapest, Jagelló út 24.
Activity: Construction of residential and non-residential building
Telephone: +36 1/422 3550 | E-mail » | Website »
Spinto Hungária Kft.
Address: 3516 Miskolc, Galamb József u., hrsz. 47511/23
Telephone: +36 1/422 3550 | E-mail » | Website »
Teca-Print Hungária Kft.
Address: 3502 Miskolc, Pf.: 236.
Activity: Production and distribution of printing industry peripheries
Telephone: +36 1/422 3550 | E-mail » | Website »
TenPao Electronics Kft. 
Address: 3508 Miskolc, Bogáncs u. 4.
Telephone: +36 70/6848 199 | E-mail »